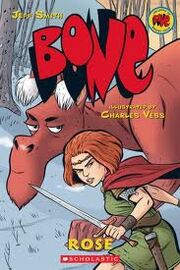 Bone: Rose is a prequel book to the Bone series. It takes place when Rose was a young woman, before her rise to the Atheian throne.
The prologue tells the story of how the world was created by a powerful dragon named Mim, who maintained peace and created powerful dreams. She was possessed by the powerful Lord of the Locusts, driving her mad and leading the other dragons to seal her, as well as the Lord of the Locusts, away in stone.
Ad blocker interference detected!
Wikia is a free-to-use site that makes money from advertising. We have a modified experience for viewers using ad blockers

Wikia is not accessible if you've made further modifications. Remove the custom ad blocker rule(s) and the page will load as expected.