WELCOME TO BONEVILLE WIKI!
This is an online encyclopedia about Jeff Smith's popular all ages comic book series Bone. This wiki aims to contain every piece of information about Bone, so feel free to add your own knowledge! We are currently editing 164 articles since August 9, 2010!
ABOUT the COMIC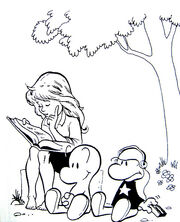 After being run out of Boneville, the three Bone cousins, Fone Bone, Phoney Bone and Smiley Bone are separated and lost in a vast uncharted desert. One by one they find their way into a deep forested valley where they encounter the wonderful people and terrifying creatures that live there. As time goes on, they soon discover that the people there are threatened by a dark entity, the Lord of the Locusts. The Bones are quickly drawn into the events around them, and are compelled into a quest to help free the Valley! It will be the longest - but funniest - year of their lives.
Winner of 11 Harvey Awards and 10 Eisner Awards including Best Cartoonist and Best Humor Publication, as well as being named Best Comic Book by the National Cartoonists Society. BONE has also won multiple international awards in Italy, France, Germany, Spain, Finland and Norway.
Bone: Legacy is a series by Tom Sniegoski. It is a spin-off series of Jeff Smith's Bone. However unlike Bone it is not a graphic novel series, but a written story with occasional illustrations by Jeff Smith.
January 3, 2012 - Today all 55 issues of Bone have been released onto the Bone Iphone/Ipad/Ipod Touch and Andorid app. All 55 issues of Bone are availible to download digitaly for $1.99 each on the Bone app. Have Fun!!!!
November 16, 2011 - December 16, 2011 - Starting today any book bought from Jeff Smith's website store will be autographed by Smith. So go to boneville.com now and buy a book. Offer lasts till December 16 so hurry. - Happy Holidays
July 14, 2011 - Bone and Smiths current project RASL apps are available for the Iphone, Ipod Touch and Ipad in the app store by comiXology for free. It is also available on android. Buy each issue for $1.99 but the first issue is free. Download the Bone and RASL app now.
Bone on Scholastic.com
Jeff Smith's Official Site
Official website for Bone author, Jeff Smith