Gertie was a bone. She was first seen in the cobbler gobbler contest against
Big Johnson Bone
(who immediately fell in love with her) and she ran by a chance, suddenly gas built up in her from the lack of asparagus she ate in the 3rd round and air rocketed to the moon never to be seen again.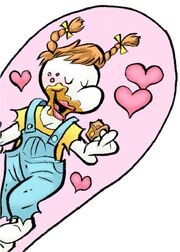 Ad blocker interference detected!
Wikia is a free-to-use site that makes money from advertising. We have a modified experience for viewers using ad blockers

Wikia is not accessible if you've made further modifications. Remove the custom ad blocker rule(s) and the page will load as expected.